Queens Park Pupils Help Arise Become Self Sustaining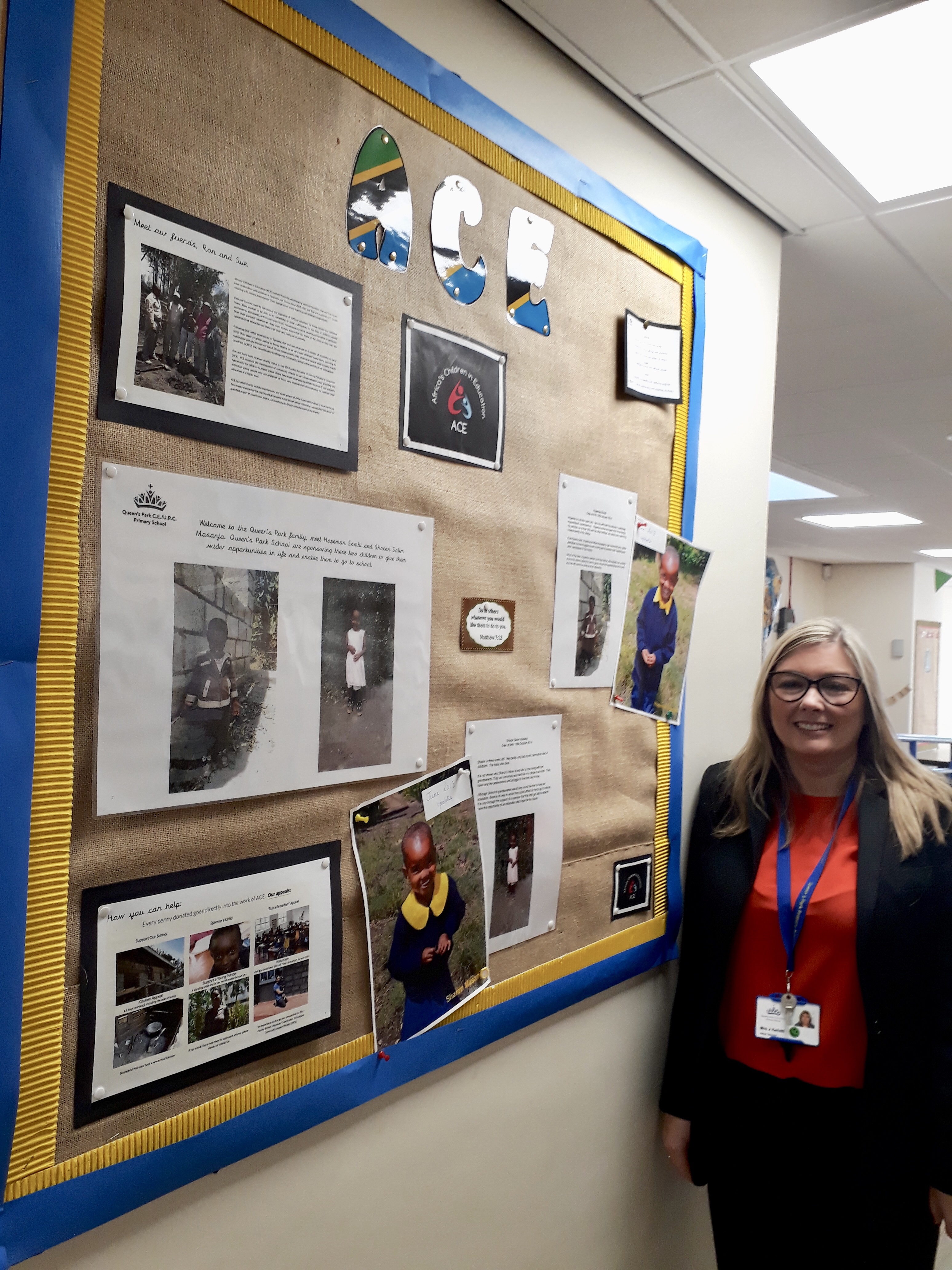 Pupils at Queens Park CE/UR Primary School, St. Helens have been supporting ACE for several years now. In that time, the children have enthusiastically raised money to buy school shoes and breakfasts for children at Arise School and to buy blocks to build much needed classrooms. They have written letters to pupils at Arise and, more recently, with the support of Mrs. Kellett, their Headteacher, and staff, they undertook to raise the money needed to sponsor two children through their education. Without their support, these two pupils would not otherwise have the chance to go to school.
A few weeks ago, we went into Queens Park to update children and staff on progress at Arise. We were also presented by Mrs. Kellett with a beautiful cushion and cards that the children had made for us to take out to the school. The cushion is made from squares of brightly coloured material, each individually decorated by the children. Both the cushion and cards are designed with many good luck messages to their fellow pupils at Arise and drawings which include both the Tanzanian and Union flags.
With its Harvest Service approaching, Queens Park wanted to donate the proceeds of the collection to ACE. Now that efforts are being focused on Arise becoming self sustaining, we suggested that it might go towards progressing this by purchasing fruit trees, vegetables, plants and livestock to supplement the children's diet. Any surplus will then be sold locally to bring in income for the school.
The Harvest Service was led by Year 1. The children had worked so hard to learn the action songs chosen for the event and their individual parts. They were real stars! Unexpectedly, we were delighted to be presented with a cheque for ACE from the recent Harvest collection at one of the school's linked churches, Newtown UR Church.
This week we are back at Arise. They were delighted to receive the cushion which had travelled 6,000 miles with us from St. Helens in Merseyside to the foothills of Mt Kilimanjaro in Tanzania. It was much admired by both children and staff. They were so pleased to receive it and to have such a tangible gesture of Queens Park's love and ongoing support for them.
A great big "Thank You" to the pupils and everyone at Queens Park for always making us so welcome when we go into school and for all their continued efforts to fundraise and support ACE and Arise School. Asante Sana.