Arise Celebrates Its Local Volunteers 15.10.21
Since Arise first opened its doors, it has embraced and harnessed the contribution of the local community, including that of local volunteers. In recent weeks, pupils and staff said their farewells to two such volunteers, Annasia and Lovegod, In their time at Arise, they have made different but equally valuable contributions to the school.
Annasia has been volunteering at Arise in a teaching capacity since July 2019. She quickly showed herself as a dedicated and self motivated member of the teaching staff, inspired and interested to help each child succeed in their learning. Of her time at Arise, Annasia said:
"When I walked through the doors of Arise Community School, I had no idea what was in store for me. All I knew was that I wanted to be a teacher and needed a jumping off point. What I received was so much more than an entrance into the world of teaching. I am very fortunate and privileged to have been a part of Arise. I feel privileged to have been a teacher here shaping the minds that are going to change the future. As I transit into a new career, I strongly believe that I am ready"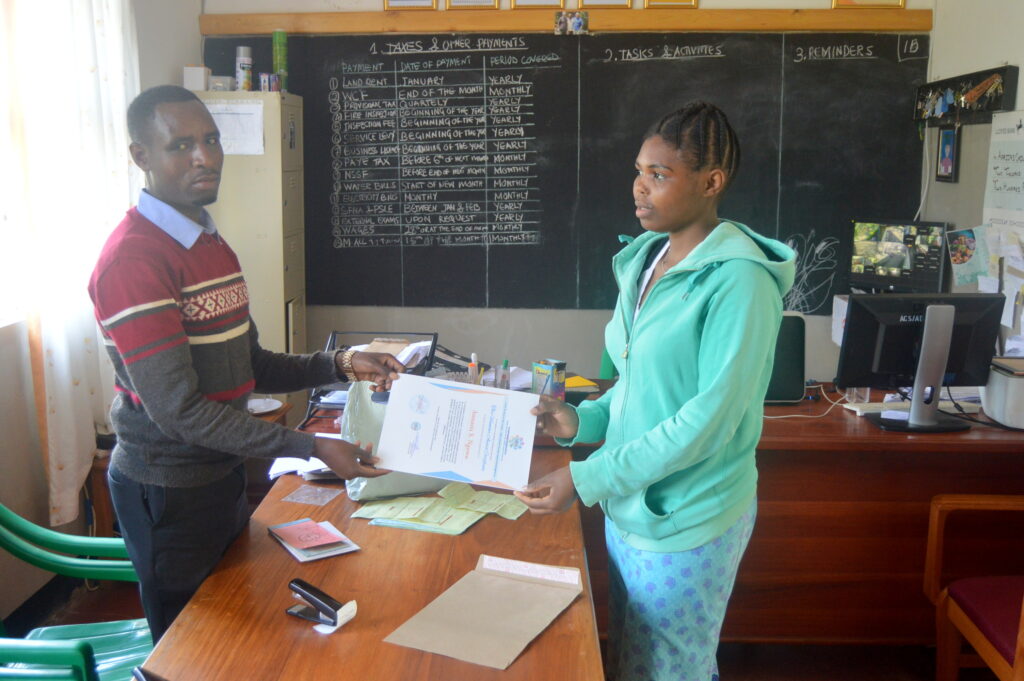 Lovegod joined the Arise team in January 2021. He very soon became a tremendous support on the administration side, particularly running and maintaining the school's stationary supply, ensuring that both pupils and staff had the stationary they needed in a timely fashion. Always flexible and willing to make himself available, in addition, he would help with tasks like construction work or transport, when required. Lovegod described his experience of volunteering at Arise as follows:
"I have gained more experience and skills that I believe will be helpful to my career. Though I gave my time, I do believe that what I have been doing here and what I have learned is going to shape me for the person I will be tomorrow. My time here was worth it"
Sad to see them go, as Annasia and Lovegod left to start new careers, Arise took the opportunity to recognise and thank them for their hard work and effort and their immeasurable contribution and commitment to the school by presenting each of them with a Certificate of Appreciation.
As he handed each of them their Certificate, Mr. Nyari, the Headteacher summed up the appreciation of all at Arise:
"Such people with a heart to give and dedication to work is what makes our dream work. We'll never forget your hard work. Thank you for being so selfless with us and for so many in whose lives you make a tangible difference."
On behalf of ACE, we add our thanks and appreciation and wish Annasia and Lovegod every success in their future endeavours. We know they will be sorely missed at Arise.